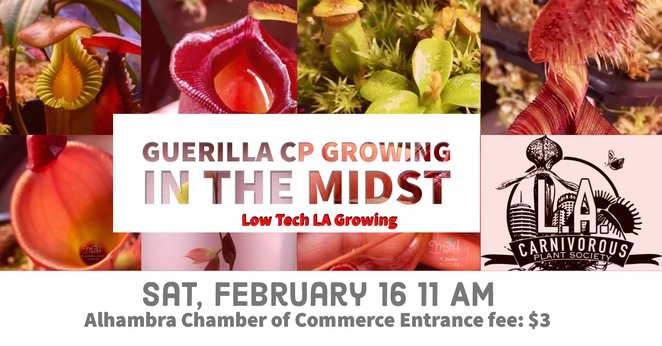 The February 16 2019 LACPS meeting will feature a presentation by Maggie Chen about her experience growing carnivorous plants outdoors in sourthern California.
What to Expect
Is a greenhouse necessary to be a successful grower of carnivorous plants in dry Los Angeles area? We who live in crowded cities with high costs for space have adapted to growing on small shaded patios, balconies, tents and aquariums. Can we be successful with more difficult plants that require temperature changes with a low tech approach? The LACPS February meeting explores these issues as member Maggie Chen offers a photo tour of her low-tech guerrilla CP growing style. See how you can succeed whether you are a beginner with a Rubbermaid box, or advanced grower with a state-of-the-art greenhouse.
Where to Go
The meeting will convene on Saturday, February 16, 2019 at the Alhambra Chamber of Commerce building. The doors will open when Tom arrives, which is usually around 10:45AM.
Sales and Trades
As always, plants to show and sell are welcome and encouraged.